is spelled J/105 but J105, J 105 and J-105 spellings are also found.
The boat has been sold.
2001 J105 Sailboat Chantecler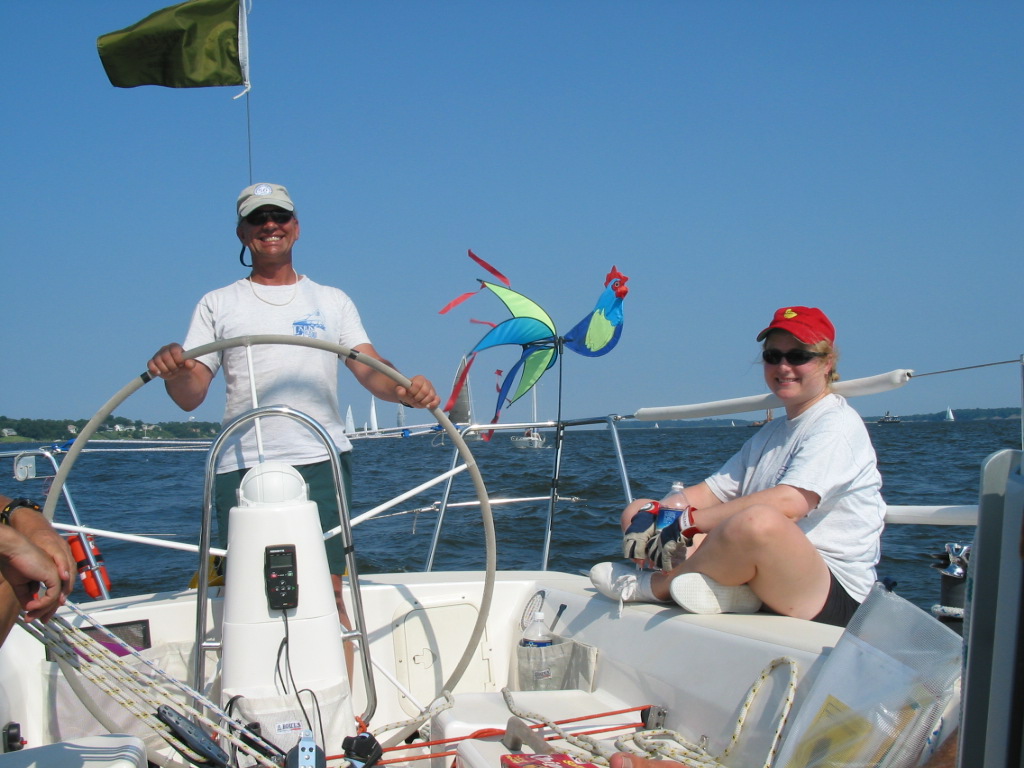 Check the boat's Major Features.
This is an example of what you can do with it: 2002 BOR
Want some Details?
The Arrival in Baltimore. The J/105's Interior.
See More Sailing with Chantecler. Want to see More Deck pictures? Want to see More Details pictures?
One of the big advantage of the J/105 is the discussion forum of the

web site. Discussions there are often rich learning experiences, thanks to contributors such as Andy Skibo. One J/Boats dealer once was not pleased with the unbiased and frank discussions of the J/105 strengths and weaknesses. He saw this best practice in knowledge management as a threat to his bottom line. Fortunately his attempt to tone it down has failed and the forum has thrived together with the J/105 fleet.
I have peppered this web site with old forum discussions. Here is a discussion on the offshore capabilities of the J/105. This discussion is on pulling the mast forward on a run. This one is on gybes. Discussion on the mainsheet system.
Former ad on the web site:

Hull #536 (June 2001) is a J/Europe-built Deep Draft wheel J/105, which is also better for cruising (sleeps 5) because it was initially equipped for offshore and distance racing. Boat raced J/105 OD class in the Chesapeake Bay. Silver 2002 Annapolis-Bermuda.

"This boat has no bad habits"

John Driver (former owner of J/105 #163 Thoosa)

The J/105 caught my eye when I crewed on Alizé, a C&C 40, racing PHRF A2 in the Chesapeake Bay along several of the early J/105s. They looked elegant, fast and needed only about half the 11 people we needed to get Alizé competitive. When, in 1979, I started looking for a sailboat to buy after many years of leasing and a few years of racing, I naturally turned to a few J/105s owners and emailed them. I got several enthusiastic responses and the one that sticks to my mind to this day is the one above. John had bought Thoosa in New England and he was talking about the offshore delivery from there, made mostly under asymmetric spinnaker. I still had fresh in my mind a couple of bad rolling broaches we have had with Alizé that spring racing season and how uneasy some of us felt when running under spinnaker in heavy air at night for the Solomon's race.

Another outstanding response from a J/105 owner was from John Kircher who was looking for a boat partner and I soon became a J/105 co-owner on #208 Jay Boat.

From my experience with both Jay Boat and Chantecler, I can say that John Driver was right on, the boat has no bad habits. =>

I have, from time to time, sailed in nasty weather, most notably the 2001 race to Baltimore, the 2002 Bermuda race and back, the 2003 return from Screwpile and the 2004 race to Oxford (18+ kn of boat speed under reefed main only). I have destroyed two spinnakers (during the 2002 BOR practice and BOR return). I have had a few broaches. But when we followed the proper safe procedures I have never felt that the boat was out of control.

When pushing the envelope, broaches are difficult to totally prevent in unstable weather. As a helmsman I have felt the loss of steerage, but in many cases I was able to regain control after I learned the trick of shacking the wheel back-and-forth rapidly. This stops the flow that feeds air into the gap between the rudder and its boundary layer that had become detached, reattaches it and reestablishes steerage and directional control. If that does not work, the team should in that order, ease the spinsheet to reduce the sideways force, ease the vang to spill air at the top of the main and ease the mainsheet and these measures are likely to stop the broach. In order to do that, there should be a constant dialogue between the helmsperson and the spinnaker trimmer. They should constantly communicate aloud what they feel and the rest of the team should be listening. The team has to learn not to overdo the corrective measures, as we lost our two spinnakers in the next step after an initial broach when the boat straightens up after slowing down and a more powerful wind flow is suddenly reestablished on the spinnaker and the next thing we heard was the bang of the spinnaker torn up a few inches outside the reinforcement at the tack.

At mark roundings, hoisting the asymmetric spinnaker from the fore hatch is easy. Gibing is also relatively easy. Dousing in heavy air could be more difficult if one does not have the possibility to run deep to spill air from the spinnaker. But, with proper technique, this task can be mastered even by good but unexceptional or shorthanded crew.

J-105

The J/105 is another example of J-Boats' proven philosophy that simple, well conceived, and solidly constructed boats will succeed. After more than 10 years in production and 600 boats, this remains one of the company's most popular models.

Following the J/105's introduction in late 1991, Sailing World magazine (January 2004) chose it as its "Boat of the Year" in the Racer/Cruiser category, although with 5' 5" inches of headroom in the main cabin and rather limited accommodations, I don't think this boat fits any reasonable person's definition of a 34-foot cruiser. It's not strictly a racer either, because it clearly has appeal beyond the race course, and "daysailer" is much too narrow of definition. So, what do we call this unique model? Let's just say this is a multiple-purpose "fun boat" that will appeal to sailors who place more importance on competitive one-design racing and responsive performance than entertaining or cruising on weekends.

The J/105 measures 34' 6" (10.5 meters) length overall and waterline length is 29' 5". Maximum beam is an even 11', standard draft is 6' 6" and the designed displacement is 7,750 lbs with a 44% ballast-to-displacement ratio. A shoal draft model offers 5' 6" draft and a slightly higher ballast to account for the raised center of gravity. The majority of J/105s built are of the deep draft variety.

Tillotson Pearson International (TPI) builds the J/105 utilizing the patented SCRIMP process. Simply put, fiberglass materials and core materials are laid up without any resin. The lay-up is then sealed in plastic and a vacuum applied to remove all the air. Resin is then introduced and the vacuum draws the resin through the composite. The process allows precise control over resin to fiberglass ratios and results in a strong yet lightweight hull. TPI pioneered resin infused composites and J/105s are sold with a 10-year hull warranty that includes osmotic blistering.

The deck layout of the J/105 is very clean, yet another benefit of a simple design. There is a 20" square forward hatch which, if not already modified, will need a means to prevent the hatch from opening past 180 degrees which causes the frame to crack. The T-shaped cockpit is very large and separated by the mainsheet traveler which is within easy reach of the helm. Standard equipment is a tiller with a Spinlock hiking stick, although a 42-inch Edson wheel is offered as an option. The reversed transom has a molded cavity and swim ladder for easy boarding.

The cabin accommodations are spartan yet functional and easily maintained. There is a seven-foot-long V-berth forward by a port head and starboard hanging locker. Aft of the main bulkhead there is a small galley to starboard and navigation table to port followed by port and starboard 6' 6"-long settee/berths. The icebox is a 54-quart portable cooler that fits beneath the companionway steps.

Auxiliary power is provided by a 20-hp inboard Yanmar diesel and a Martec folding propeller.
For a boat with a sail area-to-displacement ratio of 24, the J/105 is remarkably easy to sail, even shorthanded. In fact, the only complaint I have heard about the sailing characteristics of the J/105 is her performance to windward in light air. Some have added an overlapping genoa to help in this regard, but these are not allowed by one-design racing rules which limit the sail inventory to a mainsail, non-overlapping jib and an asymmetrical spinnaker.

Once the wind picks up to over 8 knots this boat shines on all points of sail, and by all reports, is downright exciting reaching and running in moderate to heavy air. Sustained speeds of 12 to 13 knots broad reaching in 20 knots of wind are not uncommon and the well-balanced hull form, low center of gravity and large rudder allow the boat to be sailed under control in these conditions. Gone are the days of white-knuckle downwind runs and death rolls.

The current published value ranges from $55,700 for a 1992 model to $151,500 for a 2004 model. Of the 18 models I found currently offered for sale, the least expensive was a 1992 model for $85,000 and the most expensive a 2004 model for $149,500. Records of six J/105s sold over the last 12 months ranged from $88,300 for a 1996 model to $132,500 for a 2004 model. This suggests that used J/105 models are holding their value very well and that the published prices are likely a bit below the market for older models and a bit optimistic on newer models.

While I think the J/105 could be a great daysailer, her strength clearly lies in her appeal as a one-design racer. There is a very strong class association and J/105 fleets are now in nearly all major sailing centers across the country. For big boat racing enthusiasts, it's hard to beat a boat that offers great competition with a crew of two to six people when it may take eight to 10 people to crew a comparably sized handicapped racer.

| | |
| --- | --- |
| | The first page of my J/105 subweb |
| | The major features of J105 hull #536 |
| | Don't miss this important technical bulletin on rudder bearings, companionway slider stop, hull to deck joint, mast tuning and mast bend, engine stop cable, bowsprit seals, and battery specs |
| | The second launch of my J-105 in Baltimore, from shrink wrap and cradle to the water |
| | The anchor well, the bow sprit seals, the gimbaled two-burner propane stove, the three sea berths with lee clothes, the instruments, the sails and other details of the J105 |

| | |
| --- | --- |
| | The V-berth, the mast step, the sinks, the navigation table, the stove area, and other views from the interior of the J/105 |
| | The J105 under sail, upwind with genoa and main |
| | The J 105 wheel, instrument remote, propane bottle locker, the genoa tracks, the triple cabin top rope clutches, the foot rest for the main trimmer, and the cabin top instrument cluster |
| | The J/105 masthead, the Sparcraft mast, which permits masthead asymmetric spinnakers and the forehatch. |

Chantecler logo

(design by Salima Bentchicou-Gonord, Architecte DESA)